Please don't enter video size bigger than 2G, because telegram don't send file larger than this
New Version of bot is: 0.5.1
Now we are provide premium proxy to bypass youtube throttling, use the bot easily, the fastest and full features of youtube-dl program
Now By YouTube Downloader with Telegram you can download your clips and videos on YouTube as a format:
mp3 or mp4 in any quality.
Someone like to send YouTube video to each other or channel or groups in telegram instead of sharing its links
We make the bot using python3 language, aiogram, youtube-dl and telegram-uploader for fast and more secure.
Some bots have annoying ads and limitation but you can use our bot without any annoying and limitation things.
Try our service for free:
YouTube Downloader with Telegram Bot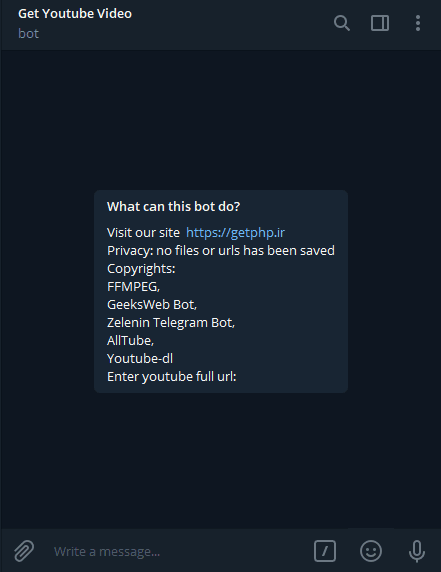 For start you can enter the URL of video on write a message section and then start choosing format and then get your video or audio.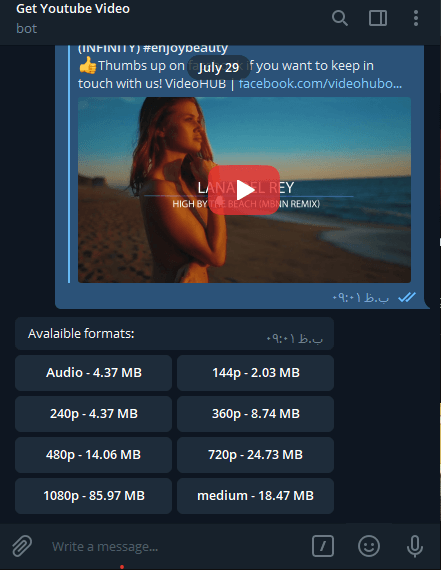 Now select your consider format the wait for bot response.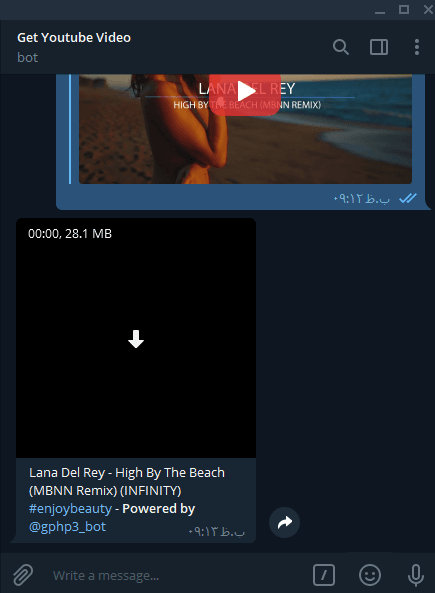 After choosing format bot will send the video or mp3 file to you.
The time of received video or audio is depends on your files size and telegram speed.
So please be patient and don't send the URL again. if there is any problem report us.
The maximum size of file is 2Gig because of telegram limitation.
Please send us any problem or any question about this bot in comments.
We can run and setup your own bot in our servers with low price with supporting.
Please for more information contact us .