Early edition, users only could download youtube videos, but now Supporting more sites with Youtube Downloader bot. It's free and no ads.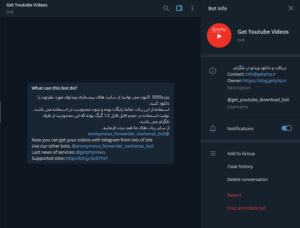 Youtube-dl is a command-line program to download videos from YouTube.com and a few more sites.
Just insert url of video in our bot and wait until format selection show you.
After that depends on video's server and size of file wait for receive mp3 or video.
Youtube downloader telegram bot.
You can use our other bot for anonymous forwarding in telegram.